Rugged phone with advanced tools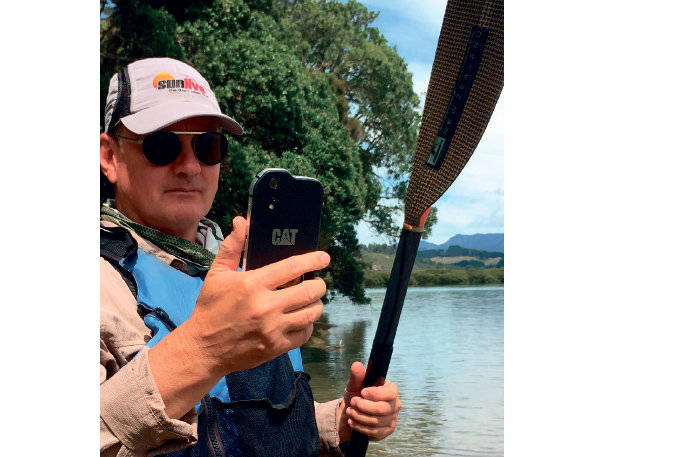 Those who spend time at sea and working in other testing environments know how demanding the elements can be on any electrical equipment.
Cellphones particularly take a hammering in the outdoors, on the ocean and on worksites.
The latest rugged Caterpillar smartphone, the Cat S61 is perfectly suited to thrive in those harsh conditions. We took the latest upgrade, Cat S61 for a test drive.
Caterpillar claims to be the world's leading manufacturer of construction and mining equipment, now has launched its flagship rugged smartphone, in New Zealand. It is the upgrade to the Cat S60 with enhanced FLIR® thermal imaging capability, built-in laser assisted distance measuring, and an indoor air quality sensor.
This unit is waterproof to 3 metres for up to an hour, featuring an underwater 16MP rear camera. It's rated drop-proof up to 1.8m and has dust proof, vibration, sand, salt, mist and pressure resistance to cope with the most rugged environments. A stonking 4500mAh battery claims up to 37 days standby time and 35 hours talk time on 3G, allowing users to go off-road and off-shore with no worries.
Impressive
First impressions of the Cat S61, the weight and size are impressive. Especially if you're used to an ordinary slim townie phone. This machine is seriously robust, a handful and weighty. Not surprising, with the features built in.
As a habitual Apple user, the android system took a bit of getting used to, but it wasn't long before I had my head around the system and it seems quite intuitive. I followed the tried and true procedure of most Kiwi blokes and read the instructions last, relying on infallible sixth sense and sheer stubbornness to figure out things in our own time; ie, the long, hard way.
The laser measuring tool was first to find a proper use. We quickly sized up a workspace for new flooring, clicking off the laser measure tool for a fast and accurate measure up. Please note this a serious piece of equipment that should only be used for its intended purpose, which is why we had to then try teasing the dog and cat, an essential role for any laser equipment. You should see that mutt go after that little red dot!
Next up it was air quality check time. The S61 checks levels of VOCs, which include cleaning agents, solvent, paint, cosmetics and glue. It also gives an instant readout of air temp and humidity. You'll be pleased to know I wrote this review in excellent air conditions with only 8 parts per billion of anything remotely offensive, which was probably just lipstick on my collar.
Cracker camera
The camera is a cracker, easy to use, zooming from 1x to 8x and high quality results. We used some shots in the latest edition of Waterline, finding the waterproof and sand/salt proof attributes of the phone most useful. Without the need for a casing, the camera is a lot easier to use. There's options on screen for shooting underwater, scenery and snow, video and standard camera. (There's probably a lot more in the instruction book but we haven't read that yet.)
The FLIR function found its first task, in locating a cat up a tree in the dark. The cat was last seen pursuing a red dot up there, but it was quickly located by the thermal imaging function. This would be a useful tool for anyone working at night, in low light or navigating close to shore or obstructions.
The FLIR function is great on close objects but further away tend to be less well defined.
Oh, and the Cat S61 also has another useful trick: it makes and receives phone calls!
The only issue I found was the weight. This thing packs a serious battery along with all the features and it takes a sturdy pocket to carry it and it's noticeably hefty to hold up compared to a standard girly cellphone. But, tough and durable is the aim and the Cat S61 (RRP: $1,599) is perfect for the outdoors, farming, adventure sports enthusiasts, from hiking to kitesurfing. Thanks to its waterproof and reliable features, the S61 is the ideal device to take on any task or adventure.
More on The Weekend Sun...