Change is afoot at Tauranga Marina Hardstand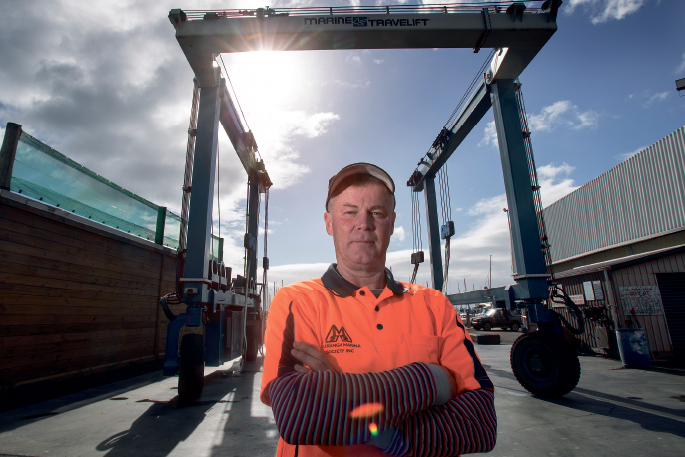 Most boaties love a change of scene so it's no surprise those who work in the marine industry also like to mix things up.
A changing of the guard has recently taken place at Sulphur Point's Tauranga Marina with some familiar faces moving into new roles, making way for fresh talent in the process.
Stephen Simmonds (known universally as 'Wizzo') has gone from painting boats to slipping vessels instead, having now taken over hardstand operations of Tauranga Marina Society's 35 tonne Travelift and 50 tonne Roodberg haulout trailer.
He knows the Tauranga Marina's hardstand inside and out, having previously run Wizzo's Marine Services for the past 20 years. His decision to sell his painting business and move across to the travel lift has given him renewed enthusiasm for the marine industry and the clients he loves to serve.
"I'm enjoying the change and a different opportunity which is exciting," he says.
Most organised marina
His office view is as incredible as ever and he's quickly learnt to master the Travelift and Roodberg Trailer, hauling 70 boats out of the water since he took over the role on 1 May.
"They add up quick," he acknowledges. "I did 12 lifts in one day – that was very busy." Wizzo says vessels now come from Auckland, Whitianga, Whakatane and Omokoroa to be lifted and serviced here in Tauranga. "It's probably one of the most organised marinas in the North Island. It's a great marina and people know they'll get good workmanship here."
In the past 20 years Wizzo has witnessed huge growth in the local marine industry which makes Tauranga Marina an exciting place to work. "The boats have definitely gotten bigger, for sure, and the quality of boats turning up has also improved."
Painting and anti-foul services have now been taken over by Super Yacht Coatings International who specialise in fairing, finishing and a wide range of coating applications within the marine industry.
Robbie Stephenson and Zak Clarke are the team on the ground who will take care of all below waterline services for local boat owners including repaints, Propspeeds, touch ups, sandblasting, valet and polish, and anti-foul coatings.
Friendly faces
The company's owners (Regan Woodward and Mark Hanna – two Bay boys who are delighted to have returned home to Tauranga), have retained the same pricing structure as Wizzo's Marine Services previously offered. "We think the biggest positive in taking over Wizzo's business is the fact that he's still here," Regan says. "It's great to have that continuity and people still see his friendly face."
In fact, Zak used to work for Wizzo and was his right-hand man before coming across to join Super Yacht Coatings. He's now doing his NZ Marine Apprenticeship and is continuing to build on his solid foundation of skills, knowledge and expertise.
Robbie is equally as approachable, reliable and passionate as his predecessor.
"It's important to always do the best possible job in terms of quality," he says. "I'm pretty fussy about that. I also really enjoy the variety. We do all sorts, from fishing boats to super yachts."
Robbie grew up in Thames and began his career in automotive painting at the old Toyota factory. He also painted kitchens and furniture before joining Super Yacht Coatings 18 months ago and adapting his skills to marine painting.
Ramping up
Together Zak and Robbie have worked on around 40 vessels since May but acknowledge that's been the quiet season. They expect things to ramp up significantly from September onwards and are looking forward to advising local boaties on the best painting and anti-foul options to maintain their vessels.
"Anti-foul needs doing every two years and Propspeeds about every 18 months," Zak explains. "That's a silicone-based coating that sits on props so nothing sticks to them. It really improves your efficiency in the water."
Super Yacht Coatings also work closely with Pilot Bay Boat Builders, Southern Ocean Boatbuilders and Hutcheson Boatbuilders to paint new builds and assist with refits. The company has been in business for over a decade and use only the latest techniques and paint technology to achieve the highest possible standard of finish.
Tauranga Marina Manager Greg Prescott says the hardstand has undergone a lot of change in the last two years: the asphalt has been resurfaced; the slipway has been reinforced; additional drains were added to enhance the environmental system; and a new power and water system has been installed. Ten additional large boat parks were added and a new bay has been created for antifoul removal using dustless vapour blasting.
Haul out trailer
Of particular note, is the purchase of a 50 tonne Roodberg Haulout trailer.
"The 50 tonne Roodberg Haulout trailer is the most amazing piece of equipment," Greg says. "We can now haul out very large multi hulls, power or sail to 18m or we change the trailer around and can haul out mono hulls, power or sail to 20m, with a max weight of 50 tonnes."
Greg says the Tauranga Marina Hardstand needs contractors covering all aspects of marine service. "Wizzo and Bob Newcombe had previously provided a fantastic service so knowing Super Yacht Coatings had purchased Wizzo's Marine Painting was very good news. A marine painting service in the Tauranga Marina Hardstand is a vital service for our berth holder and customers alike.
"Wizzo has years of experience with all aspects of marine painting, so our customers who have just hauled out and are unsure about what to do will have the benefit of his sound advice."
More on The Weekend Sun...