Wakeboarding, a sport for the whole family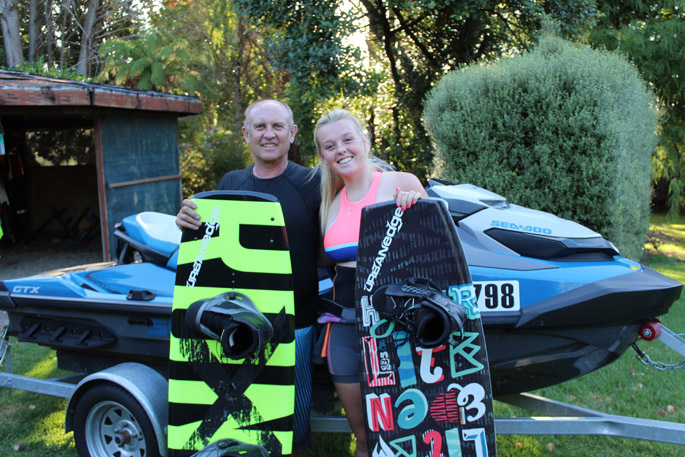 Being the youngest in the family, she was often relegated to the position of spotter. She quickly became sick of watching and desperately wanted in on the action.
"My brother and my dad are both into wakeboarding. I was just jealous really. One day Dad let me have a go and it just stuck."
Today she gets out on the water with her dad, Kevin, and their 2019 Sea-Doo GTX 230 jetski as often as they can.
She says it is special to get to wakeboard with her dad.
"There's not many people who can say they have a dad who wakeboards. It's pretty cool."
Kevin says he enjoys getting to spend the time with his daughter.
"Occasionally I get to show her up too, so that's a bonus."
There is a lot of competitive spirit in this family and Maddy says it shows on the water.
"When I was first learning, Dad could switch [the foot that is at the front of his board] and I just thought 'I have to do that.'
"It becomes a bit of a competition of who can do a trick first and then who can do it best."
Maddy continues to wakeboard eight years on for a number of reasons, but most of all "it's just fun."
"I find it de-stresses me quite a lot. My favourite part is feeling like you have no stress and nothing to worry about. It all just seems to disappear once you hit the water.
"It gets you out with family and friends and it's always a good time. There's never anything negative – unless you hurt yourself of course."
In the way of injuries, the Hogans and their regular water crew have just about seen it all – everything from minor sprains, strains and bruises to more worrying instances of being winded and taking knocks to the head. Most of these, of course, stem from that competitive drive and desire to nail the next trick.
Choppy waters
Maddy and Kevin have not had the opportunity to try out many new tricks this summer due to strong winds creating choppy water.
In the Bay it feels like we have been living in a hot, dry wind tunnel since November. It's the type of weather that desperately makes you want to get out on the water but also scares off a lot of boaties.
"The wind has impacted us a lot, but probably not as much as if we had a boat," Maddy says.
"With a jetski you can still go out and have fun in the waves, whereas I find people I know with boats are more reluctant to go out and wakeboard in rougher conditions.
"Jetskis can go out in much shallower water so you can be in different places quite easily compared to boats which need deeper water.
"We are able to pick when we go based on what suits us and what the wind is doing. We're not as bound by the tides as boats are.
"We can basically take the jetski out no matter where or when or what it's like. The wind does affect it though and sometimes you can't get around that. If it's really choppy I don't like to go out, but who does?"
Maddy hails from Auckland and says both her hometown and the Bay of Plenty are good for jetskiing in different ways.
She likes that it does not take very long to get to a ski lane in Tauranga Harbour but says there is a lot less to see here compared to the islands and volcanoes of Auckland.
"It was always cool as a kid being able to visit different islands each trip like Waiheke, Motuihe and Rangitoto."
The Hogans also enjoy visiting the Rotorua lakes for some fresh water fun.
"The lake is nice because you don't need to clean anything and you can usually find a quiet spot," Maddy says.
Maddy and Kevin have passed their passion for wakeboarding on to numerous others over the years, including myself.
Anyone who joins them on their jetski is given the opportunity to learn the basic techniques required to pop out of the water and go home pleased with a new skill.
They function on the idea that anyone can do anything if they are given the right opportunity.
Great spots for wakeboarding
Matakana Island ski lane (between Panepane Point and Panepane Wharf) Very popular spot, can become crowded quickly.
Hunters Creek -Note restrictions in place: for two hours either side of low tide this area becomes a five knot zone.
Ocean side of Matakana Island: Also used by fishermen and is strongly impacted by changing tides.
Honeymoon Bay – Lake Rotoiti: Great lunch spot with long-drop facilities, has a ski lane on opposite side of point
Hot water beach – Lake Rotoiti: Sheltered differently than Honeymoon Bay ski lane, good for low southerly winds.
Boyes Beach - Lake Okareka: Great spot for a larger crowd as it is accessible by road, however does not a have a ski lane so wakeboarders will need to start offshore past the yellow buoys.
More on The Weekend Sun...