Better regulations for seafarers to NZ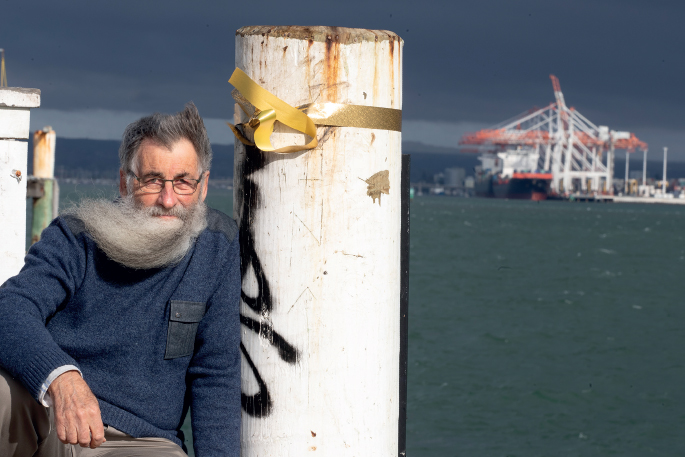 Global boarder restrictions have left hundreds of thousands of Seafarers stranded at sea without basic necessities and means to contact their loved ones during COVID-19.
While the International Maritime Organisation estimates the number of stranded seafarers is at an all-time high of about 400,000 - regulations in New Zealand are continuing to improve, following discussions between government and seafarer welfare groups, as well as increased funding.
"The government has taken a three-pronged approach to improving seafarer welfare," says Tauranga United Seafarers' Mission manager Murray Smith.
"We have an excellent collaboration with the Port of Tauranga that puts us in a position to implement these services, and people are being employed specifically for this at ports throughout the country."
The welfare approach
The approach ensures that Wi-Fi is available on each ship while it's in port, so seafarers can contact their loved ones.
A person at each port is permitted to speak to the ship's captain to check in on the welfare of the crew.
"Our Catholic Chaplain does a fantastic job at this.
"He goes no further than the gangplank in full PPE."
Finally, crews are sent a digital spreadsheet where they can request to buy food beyond the basics and other items.
Navigating no shore leave
Pre-COVID, crews would be driven to Bayfair during their shore leave, which is when they'd purchase simple necessities like toothpaste, shampoo and fresh fruit.
During the lockdowns, each port had a system to get basic food on board, but with no shore leave, crews didn't have access to other necessities. Murray says crew members resorted to brushing their teeth with salt.
Today is a different story.
"You never know what requests will come through on the spreadsheet. One crew member requested Adidas slippers, and another asked for some fairly sophisticated computer equipment.
"We had a crew who wanted McDonald's burgers and within an hour of them being delivered, I had an email from the Captain saying: 'they were eaten in seconds – can we please do that again?'
"So we went into McDonalds on Maunganui Rd with polystyrene fish boxes and loaded them up with 22 double Quarter Pounders and fries for 22 crew members."
Crew swaps possible, but tricky
Crew changes, where seafarers fly into a country to relieve existing crews, have been permitted in New Zealand since September 6 under the Maritime Border Order No.2.
This process can only happen if the crew hasn't been on land for 14 days and all return a negative COVID test.
Seafarers flying in must complete 14 days in managed isolation.
"We only tested about four ships in the first month this was implemented. I don't think the crews can see any benefit when they're only spending 24 hours in Lyttelton and 24 hours in Tauranga – their out and gone before the test results are available."
Only one crew member has returned a positive test so far.
It was a weak-positive result that may have been a historical case, but it prevented the entire crew, who all tested negative, from coming onto shore.
Seafarers worst for welfare
Welfare stats among Seafarers was already bleak prior to COVID, with the highest industrial suicide rate in the world.
With the increasing uncertainty, Murray has witnessed the mental health of seafarers plummet.
"A ship called Sofrana Surville arrived in June, when the required time off land to be granted shore leave was 28 days.
"They weren't granted shore leave, despite just returning from Honiara in the Solomon Islands, which at the time had no cases of COVID-19. They stopped in New Caledonia and Brisbane 21 days prior to this, but didn't leave their vessel.
"The crew needed support, as the captain of their sister ship, who they worked very closely with, had recently been found dead in his cabin off the coast of Australia.
"He was overdue for home leave."
The Captain's cause of death was unconfirmed.
Murray doesn't know whether his body made it home to the Philippines.
"I worked with Port security and the necessary health officials, and we managed to get our Chaplain on board to hold a service for the late Captain."
Bringing awareness
Murray says the increasing awareness about what seafarers do and the challenges they face is positive.
"I don't think we will ever get back to where we were on March 1 this year.
"COVID has altered the way seafarers' lives happen.
"At the moment we're focussed on making the best we can of the current situation."
More on The Weekend Sun...